Nick's garden was impractical and unused but it had the potential to be a great addition to his home. He contacted MH Landscapes to help him design a space that would allow his family to spend more time outside.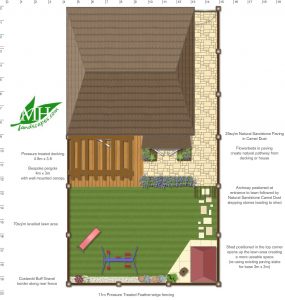 With that in mind, Hollie designed the garden to include a large decking area that would extend flush from the patio doors, with a bespoke pergola and retractable canopy to offer shade in the summer months.
A sandstone pathway framed with ornamental grasses and lavender leads your way to the stepping stones that take you to the storage shed and large open lawn area perfect for his young children to play.