Our clients can be assured of outstanding quality and workmanship, on which we built a reputation. We go to extreme lengths to maintain it and we know we're only as good as our last job!
Luckily, our clients say the nicest things…
We are thrilled with the new garden. Matt's energy and enthusiasm was so encouraging and it was such a pleasant change to have someone so well spoken, educated, trustworthy and confident working at our property.  In addition his patience was a real comfort when I needed to slightly change plans or needed him to explain what was happening. We shall have no hesitation in recommending MH Landscapes and will no doubt be using you again in the future!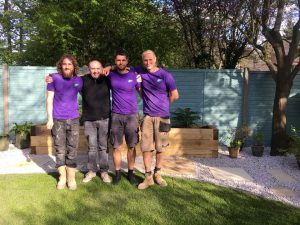 We chose MH Landscapes because we were impressed by their professionalism, enthusiasm and friendliness when they came round to quote for the job. We were not disappointed. Matt and the team were absolutely fantastic. Their number one aim was to make sure that we were happy with the work. They were happy to spend time to explain what they were doing and were willing to make changes and adjustments as the work progressed. Nothing was too much trouble and they were a joy to have around. Hollie was fabulous at keeping us up to date and managing the communication and admin process. The quality of the work is absolutely first class – no niggles whatsoever. You can tell that they take real pride in their job and in making their customer happy. We are absolutely delighted with the end result and can't wait for the summer to come so we can enjoy the garden properly. We would have no hesitation to recommend MH Landscapes. We would certainly use them again.
Wow! All I can say is what a team! I have spent years in the property industry and have had several contractors come and go at our family home but Matt and Hollie are the team that care. They don't push and treat your property like its their own. We have had them on site for 4 weeks, they work in any weather possible, there are no extras or hidden charges unless you ask for extra work. I can't recommend them enough and I'm proud to recommend them to my clients when they move into a new home. Guys thank you from Mel and Craig.
Our garden is fantastic, I looked at it again earlier & it looked just like something out of an interior design magazine… We are extremely pleased with the MH Landscapes team.
Matt, Hollie and the team did an amazing job with our garden. Throughout the whole process from design to finish they were so lovely to work with and the end result is fantastic – a garden that our family can enjoy for years to come. For the first time since we moved to this house we can really enjoy the garden thanks to all the work they did for us. Thank You!
Thank you so much Matt, Hollie and the team for completely transforming our front garden! You have moved it forwards 90 years and added a great deal of value to our property. The new look is even more compatible and innovative than what we envisaged and it is a great credit to your professionalism that you overcame terrain and weather to achieve this. We would highly recommend you to anyone.
Thank you very much for our beautiful garden. Despite the appalling weather and ground conditions of our garden you have done a fabulous job. It was worth waiting for – we have had envious comments from friends and family.
Everyone involved has been polite, helpful, clean and tidy – Thank you MH Landscapes
We can't thank you enough, it is exactly what we envisioned for our children when we bought the house. The kids have been playing in the garden all weekend. Thank you so much to the whole team.
We just wanted to say how impressed we are with the work. Matt is such a hard worker and an absolute pleasure to have around. Hollie's hard work behind the scenes hasn't gone unnoticed either! Thank you both so much!
This week we have had our garden turfed by MH Landscapes. They came in for a week and worked so hard to get it done. They had to do it all by hand including digging out tree stumps and flattening the land because we cant get equipment into our garden. They were so professional, consulting us at every stage and were incredibly friendly and polite. I can't recommend MH Landscapes enough!
Thank you MH Landscapes for another brilliant project completed in my garden. The quality and craftsmanship is second to none. I look forward to starting work on my front driveway next…
The garden looks so much better, once again you have done a lovely job for us. Thank you to all the team for your hard work.
Both Lesley and I are delighted with our new patio and lawn. Thank you for all the help and advice when choosing our paving and for being such lovely people to work with. We will recommend your brilliant services to all our friends and family.
Thank you for all your hard work completing our garden, it looks great. Matt and the team have been a pleasure to have working in our garden and are extremely considerate and mindful of the disruption exterior work can impact on our neighbours. They were polite and courteous to all who came by trying to get a sneak peak of the makeover. We would have no hesitation recommending MH Landscapes to all our neighbours wanting any landscaping work.
MH Landscapes are a fantastic and reliable company. They came and helped me very quickly and did a wonderful job! They certainly have a passion for landscaping.
I'm so pleased with the work MH Landscapes have done in my garden! They have saved my trees and made me fall in love with them again!
They did a really brillaint job…We are very impressed with the MH Landscapes Team… and it was done for such a good price too!
Matt is a hard working, friendly person with a good knowledge of gardening. We have happily had him and the MH Landscapes Team back to do work for us again and again.
I am over the moon with the service from MH Landscapes, they helped me complete my garden so quickly – a job I've been meaning to do for ages!
MH Landscapes are reliable, prompt and hard working. I would highly recommend them.
[/testimonial]
We were recommended to MH Landscapes by some friends. Matt came to carry out a survey and subsequently provided a proposal to meet our requirements. The proposal was very professional with a full inventory of costs for all materials, together with drawings of what our garden would look like.
MH Landscapes quote was not the lowest we received, but it was easily the most professional and Matt convinced us he would deliver what he promised.
We chose them from 4 other quotes and were delighted. They arrived on day one, carried out all the work exactly as proposed. They communicated every day about how they had got on (good or bad) told us what was happening tomorrow, asked us if we had any concerns and responded if we did.
The project was delivered on time, within budget and more than met our expectations – MH Landscapes are an excellent company."
BEAUTIFUL GARDEN DESIGN & BUILD
THE HIGHEST-QUALITY WORKMANSHIP - GUARANTEED!