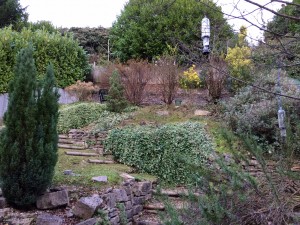 Giles and Carolyn have two very young children who were unable to play safely in their rear garden. The entire plot was sloping upwards and made predominately of large rocks and bushes. Giles contacted MH Landscapes for some help transforming this steep, hazardous garden into a fun and safe place that his young family could all enjoy. During an initial meet with Matthew, ideas and solutions were discussed in order to achieve the most practical use of the entire space.
Giles wanted to create a 3 tiered garden, each with its own specific purpose. On the lowest tier, a large patio area for dining on. On the second tier a lawn area surrounded by a small fence for the children to use as a play area. Finally, on the top tier a decking structure so they could enjoy the sun late into the evenings. Giles and Hollie (Design Dept) spent a lot of time ensuring that the garden was built to its fullest potential whilst still maintaining the budget.
The first task for MH Landscapes was to clear all the trees, bushes and large rocks away and begin chiseling out the lower bank to extend the patio width. The existing block paving was then taken up and a new riven patio was laid extending from the rear of their house.
Once the patio had been completed, the retaining wall could be built to create the second tier. Giles chose to have timeless timber sleepers for his retaining wall as this is the most cost effective yet aesthetically pleasing method. When the wall had been secured, we built a small staircase in-bedded into the bank using a timber sleeper frame and the riven paving slabs to match the patio.
The ground of the second tier then had to be dug away to allow for the next retaining wall to be built. Once this was done the ground was leveled and flattened and a layer of top soil was brought in to (eventually) house the new lawn.
A second staircase was then built into the bank to lead up to the top tier. This was repeated in the same medium as the first steps. A decking structure was then built at the top of the steps with a 3ft picket fence along the bank to keep the children safe from falling.
The final stages of the project were to lay the new lawn, insert the lower picket fence along the first retaining wall and clear the banks ready for planting.
MH Landscapes took just over 6 weeks to complete this garden transformation and the results are fantastic! Giles and Carolyn now have an extra part of their home to enjoy together and their children have a fun and safe place to play.
We're delighted with the work, it looks more different than we could ever have imagined. I've really enjoyed coming home from work every day to see what's changed. I'm also very glad we got you guys in and I didn't attempt this as a DIY job : )