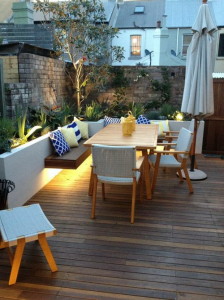 During the months of summer more of us are enjoying spending time in our garden until late into the evening. Lighting is increasingly something we are asked to factor into our design schemes, especially in town gardens. These small spaces have to work hard to please and often they work antisocial hours. The time they are appreciated is in the evenings or in the early morning before coming back or heading off to work. Early morning light is a naturally beautiful thing, but it is often the artificially-lit night time garden that really shines. Here, lights can be used to create atmosphere and effect.
Solar powered garden lights are fast becoming more and more popular as people embrace the benefits they provide as opposed to traditional lighting methods. As the name implies, these lights are powered solely through sunlight, which provides the energy needed for the lights to work. Garden lights are naturally and perfectly situated to receive plenty of sunshine during the day, which can then be converted to lighten up your garden without the need for any electrical outlets. Thus giving solar garden lights, quite a number of benefits.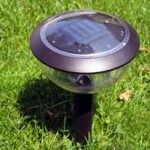 Firstly and maybe most importantly, they can save us money on electricity. As is the case with solar powered devices in general, the main benefit is that you get to save money from electricity bills. Of course, they may be more expensive than normal electrical lights when you first buy them, but in the long run solar lights provide a cost-efficient solution to lighten up your garden.
Another brilliant factor to consider is the positive effect it has on our environment. Installing solar garden lights will be another small but steady step to preserving our planet. In fact, using electricity means burning more fossil fuels, worsening the issue of global warming and plunging the planet in more environmental strife. On the other hand, opting to install solar lights will ensure that you will be getting your light from a free and natural energy source, while limiting environmental damages in the process.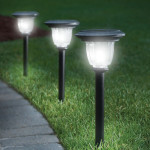 Solar garden lights are also very simple to set up, and what's more, you do not need to hire any electrician to get it all set. All you need to keep in mind is to install them in the place which gets the most amount of sunlight to maximize their effect. Since these are garden lights, you do not have to worry about plugging, electrical outlets, wiring or any other eyesore whatsoever. In fact, it would be counterproductive to install lights for your garden to look better, only to litter the scene with wires. Apart from being easy to install, solar garden lights provide design flexibility as they can be moved from one location to another without the need to rewire or add sockets. Its also a bonus to remember that solar garden lights come with the added advantage of having automatic, built-in light sensors which distinguish between day and night. Therefore, the lights will switch on of their own accord when the sensors detect a lack of light in the atmosphere. Similarly, they will switch off automatically once there is enough light available. Naturally, you may still switch solar lights on and off as you please, as you would do with standard electrical lights.
Finally, while solar garden lights will be situated outside, you do not have to worry about damage resulting from bad weather. This is because solar lights are weatherproof, and will not stop functioning after heavy rain or wind because they are specifically designed for outdoors conditions.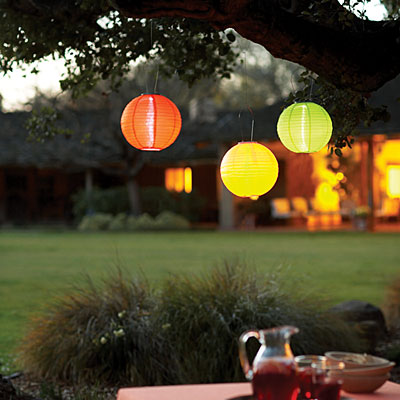 If you want to make a sensible choice that will help conserve natural resources, consider installing solar garden lights. It will definitely make a great aesthetic addition to your garden while saving the expenses involved in electrical lanterns.

Matt, MH Landscapes
[gravityform id="1″ name="Contact"]