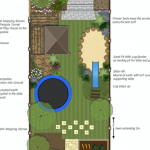 Sophie had always dreamed of having a section of her garden transformed as a fun, natural play ground for her two small children. With their third child on the way, Sophie and her husband Gary contacted MH Landscapes to design and build the play area for them… to transform Sophie's dream into a reality.
After extensive research, we put together a design to truly give the children a fun and imaginative place to play.
Once the garden was cleared of the bushes, nettles and turf, the first and hardest task was to sink their existing trampoline into the ground. This would provide the children with the enjoyment of the trampoline without overpowering and dominating the space.
Then with the excess soil removed from the trampoline hole, we built a small hill and inserted a slide into the front. At the bottom of the slide we built a sand pit area surrounded by round wooden posts set at different heights to double up as a climbing frame.
Behind the slide hill, we inserted 10 stepping stones and painted on numbers to create a bespoke Hop Scotch.
From the large tree in the space we secured a beautiful wooden and rope tree swing that flys directly over the trampoline.
Sophie and Gary had also purchased a wooden play house that we erected for them. We then built a live willow tunnel with log stepping stones through to join the "adults section" of the garden to the play area.
The final touches included fairy tale signs on the large tree. A fairy garden for Sophie's daughter with fairy door attached the stump of the tree. Soft herbs and plants for cooking were planted near the play house to encourage the children senses and allow them to get involved with mums cooking.
The overall project was a complete joy for us from start to finish. The children weren't allowed to see it until it was completed and the team thoroughly enjoyed watching their eyes light up as they raced to play in it!
Thank you so much to all the team! The kids are loving the garden and are out in it every day!