After some extensive renovation work to the interior of their home, Barrie and Jacqui decided to turn their attention to the exterior.
Their rear garden wasn't in too much of a mess to begin with, with a large lawn area and full flowering beds lovingly planted by Jacqui. However they called upon MH Landscapes to design a new, more interesting space for them and breathe life into their garden again.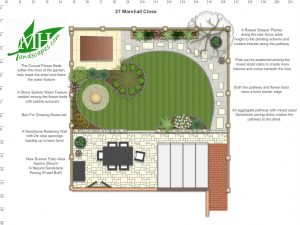 A main priority was to have a new patio area wrapped around the extension and a pathway underneath the tree where the grass refused to grow. Barrie was also particularly keen on having a water feature and lighting scheme. Whilst Jacqui's priority was interesting planting ideas. Hollie spent some time creating a design that would meet both their needs and give them points of interest throughout the garden. A Japanese Maple would become the focal point of the design with the water feature nestled in among the curved flower beds.
The team set to work and in just 13 days transformed their vision into a reality! Now Barrie and his family will have a home and garden they can enjoy for years to come.
Thank you again for such a wonderful garden… we had a friend around yesterday afternoon who really admired our garden and asked for your contact details – I have duly passed them on, I suspect they will be one of many who we recommend!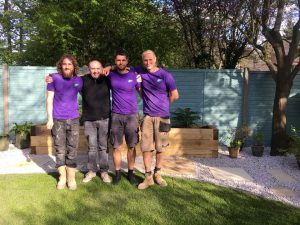 Barrie kindly sent us some pictures at night to show us how great the lighting schemed looked too…